Next Meeting: Friday, June 3, 2016
TAAA encourages the public to join our general meetings held on the first Friday of the month in the Steward Observatory Lecture Hall (Room N210) on the U of A Campus.
See Map
Astronomy Essentials Presentation – 6:30 PM
Overcoming The Threat Of Orbital Debris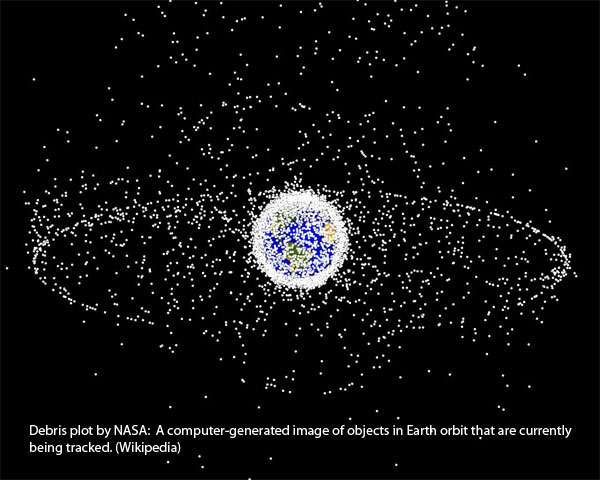 In 2009 a defunct Russian Kosmos satellite and an operating Iridium satellite struck each other with a combined impact of nearly 35,000 mph, adding thousands of lethal shrapnel pieces to the 6300 tons of orbital debris already orbiting Earth. Orbital debris endangers our modern lives, which depend on satellites worldwide for such needs as navigation, weather and climate reporting; telephone communications; radio and TV.
Currently, about 1300 working satellites orbit Earth, but this represents only 6% of the debris—mostly metal—up there. Some 94% of the metal in orbit is uncontrolled and tumbling junk, contaminating and endangering operating spacecraft in Earth orbits. If we never launched another satellite, orbital debris would continue to grow for 200 years, due to future collisions between objects. However, plans exist to send up more than 4000 new satellites in Low Earth Orbit alone!
Is there a way to clean up this mess? If so, what technical and non-technical challenges do we face? TAAA and L5 National Space Society member, Al Anzaldua, shares his views on this important subject. He has authored many articles and a recent policy paper on orbital debris.
Main Presentation – 7:30 PM
Pluto With Lots And Lots Of Cool Images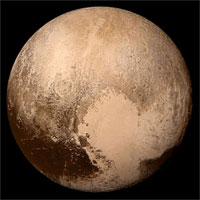 Last July 14, the New Horizons space probe, first launched in 2006, flew past Pluto for its closest approach to the distant world and its system of moons in the Kuiper Belt. The probe provided the first good look at Pluto, and scientists anticipate that the images it sent back will help them understand the origins of the solar system's outskirts. So far, they've shown a far more complex world than expected, with Pluto revealing a variety of intriguing color, composition, and surface features, including "haloed" craters, towering mountains, blue skies, and a convecting ocean of frozen nitrogen.
This month's invited speaker, Dr. Tod R. Lauer, is a research astronomer with the National Optical Astronomy Observatory and a member of the New Horizons Science Team. He will show many of the pictures New Horizon has sent back to Earth, and talk about its Pluto encounter. Dr. Lauer's career has been primarily involved with galaxies, the central black holes they host, and cosmology. It is his expertise with tricky image processing problems that got him involved with New Horizons.