School/Non-Profit Star Party Coordinator
Jim Knoll
520 – 241 – 311(three)
school-star-party [at] tucsonastronomy.org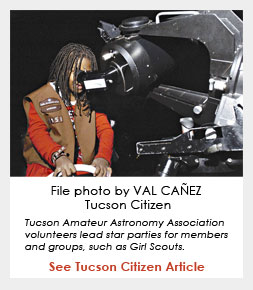 The Tucson Amateur Astronomy Association (TAAA) members are dedicated to sharing the wonders of the night sky with school groups throughout the school year. These "Star Parties" give our members a chance to share their knowledge of astronomy with students and parents alike! There is no charge for school star parties; this is a service our organization provides to our community. Due to high demand, we may not be able to support the specific date requested.  Our Club meeting is normally the first Friday of each month and we prefer not to schedule any evening star parties that day. TAAA requires six (6) weeks' notice in order to schedule and coordinate volunteer Astronomers. Recommended grade is grade 3 and up.
Star parties usually begin around 6pm or shortly after sunset (whichever is later), with volunteer members of the TAAA arriving to set up their personal telescopes a half hour prior. As darkness falls, families begin arriving and soon the fun begins! Students are encouraged to get a close look at many of the planets, stars and deep sky wonders they have been studying. Parents are invited to share their kid's experiences at the scope as well. The more successful star parties have other activities going on at the same time, usually with a science theme. Star parties for large groups (50+) usually last for a couple of hours. Smaller star parties can usually be over in an hour or so after observing begins.
The TAAA School Star Party Coordinator will assist teachers or administrators in scheduling school star parties. Once scheduled, the star party is turned over to a TAAA Star Party Leader who will work closely with your school as your star party date approaches. The Star Party Leader is responsible for learning EXACTLY where telescopes are to be positioned for viewing at your school and will ensure an adequate number of volunteers and their scopes will be arriving for your star party. And finally, in the unlikely event of inclement weather, the leader will contact your school to handle the possibility of cancellation of the event. Every effort will be made to reschedule canceled events.
Daytime Observing
If you require a daytime activity, the TAAA also offers solar viewing. We can accommodate safe observing of our Sun through telescopes fitted with special filters that highlight prominences and sunspots to offer a fascinating view of our own star.
Useful Links
Star Party Request Form
Planning a School or Youth Group Star Party
Visit the Teacher's Corner for educational resources and additional information.