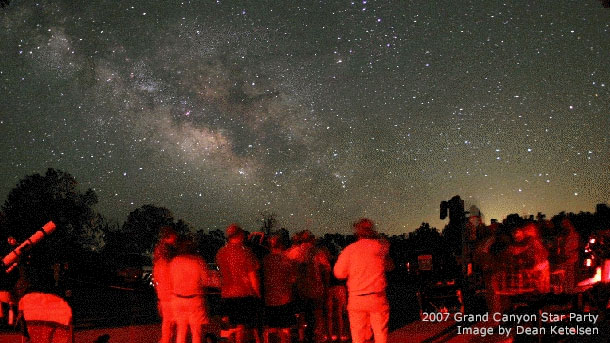 The Grand Canyon Star Party (GCSP) is held on the South Rim in northern Arizona's Grand Canyon National Park in June every year around the time of the new moon. All amateur astronomers and the interested public of all ages are invited! Bring your telescope and enjoy the camaraderie. But you don't have to have a telescope to come and enjoy the beautiful Arizona night skies. You DO need to reserve a room or campsite and make your travel arrangements early. See Accommodation Information for details. A visit to the breathtaking Grand Canyon is an unforgettable and fabulous vacation for families, singles, and seniors. Add a week of dark Arizona skies, lots of friends, fun, and astronomy education, and you have a recipe for perfection!
If you are an astronomer volunteering to support this event, please follow the registration instructions below. If you are a visitor to the Grand Canyon National Park at the time of the GCSP just come on out and enjoy the wonderful nights with us under the high desert skies. Again, no registration is necessary for visitors, but astronomer participants will need to register in order to receive further instructions and entry information.
Visit our Frequently Asked Questions for more information. Also visit the excellent National Park Services star party site. And here is a time lapse video taken by TAAA member Dean Ketelsen at the 2011 event.
GCSP Future Dates
June 09-16, 2018
June 22-29, 2019
June 13-20, 2020
June 05-12, 2021
June 18-25, 2022
June 10-17, 2023
June 01-08, 2024
June 21-28, 2025
June 08-13, 2026
GCSP Background
The current version of the Grand Canyon Star Party began 1991 as the first anniversary of Dean and Vicki Ketelsen's honeymoon there. It was noticed that a telescope set up looking at the Canyon or sky soon gathered a crowd, so a public oriented event was planned. Though tens of thousands visit every day, a small fraction stay overnight to be treated to the spectacular views of the night sky there. The appreciative tourists tend to leave early, leaving the astronomers in solitude for observing far into the night.
Prior to 1991, the San Francisco Sidewalk Astronomers made annual pilgrimages to several western National Parks in the late 1970s and 1980s, spending several weeks at each stop, including the Grand Canyon. The latest version of this star party has been readily endorsed by several of their members who have become regular attendees.
The Grand Canyon Star Party is sponsored by the Tucson Amateur Astronomy Association.
Registration Information
For more information or to RSVP for the South Rim star party please contact:
Jim O'Connor
Coordinator, South Rim component of the Grand Canyon Star Party
P.O. Box 457
Cortaro, AZ 85652
E-mail: gcsp [at] tucsonastronomy.org
Phone: 520 546-2961
For more information or to RSVP for the North Rim star party please contact:
Steve Dodder
Coordinator, Grand Canyon Star Party, North Rim
53750 W. Prickley Pear Rd.
Maricopa, AZ 85239
Cell phone: 602-390-0118
Grand Canyon Star Party North Rim
E-mail: fester00 [at] hotmail.com