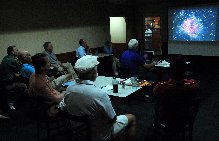 The TAAA Astro Imaging SIG meetings occur on the second Monday of every month except when there is a holiday, when we meet the following Monday. We meet at the Total Wine Store in Park Place Mall on Broadway. The meeting starts at 7 PM but come early, anytime after 6 PM, and enjoy dinner before the meeting. The group provides the club members a chance to show off their pictures, from beginners to advanced imagers. This is a wonderful mentoring opportunity.
Our programs consist of a presentation by a guest speaker or AISIG members, members sharing their images, their equipment setups, or perhaps a new acquisition to be shared with the group. Come and share your problems whether they are image acquisition, processing issues, or hardware/software related. Take advantage of the group knowledge for suggestions to solve these problems. Time permitting we offer a processing tutorial presented by one of the better know astro photographers and in some cases by one of the group members. Software that can be discussed is PixInsight, StarTools, Photoshop, MaximDL, Nebulosity, CCDSoft, CCDStack, FocusMax, PoleAlignMax, Registar, Registax, TheSky, CCDCommander, CCDAutopilot, and others. We have deep sky imagers photographing from 500 mm to 2000 mm focal length, planetary imagers using webcams, and cameras from DSLR's to astro CCD cameras from SBIG, Starlight Xpress, Orion, QSI, and others.
Meetings will end no later than 9:00 PM.
ASTRONOMICAL IMAGING SIG LINKS
Following, are links to various talks of interest to members of the TAAA and those of the AISIG relating to astronomical imaging. In some instances, the individual presenting the talk asked that access to the presentation be limited to members of the TAAA. In such cases the talk is password protected and this is noted next to the link. You can obtain the access password by sending an email to Jim Heasley using the address provided below.
Beginning at the February 2016 general meeting of the TAAA we began a monthly presentation of some images taken by the AISIG members. Links to those slide presentations are provided below. These usually are new images not shown on the TAAA site's member image gallery.
Talks and other presentations
Getting Started In Astro-Imaging by Jim Heasley, Ph.D., TAAA, presented at the TAAA general meeting, February 5, 2016.
High Quality Astro-Imaging Eight Keys to Success by John Hayes, Ph.D., Adjunct Professor of Optical Sciences, UA, presented at the February 8, 2016, AISIG meeting. This talk is password protected at the request of the author.
Monthly Slide Shows from TAA General Meetings
February 2016 Slide Show Images from Burley Packwood, Howard Bower, John Kalas, Russell Carpenter, George Hatfield, and Michael Mulcany.
If you have any questions, contact Jim Heasley by email: astro-photo [at] tucsonastronomy [dot] org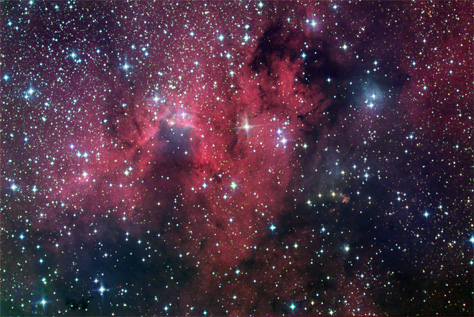 Don't miss our TAAA Members Gallery!