9315 E. Perseus Way, Pearce, AZ 85625
Coordinates: 31° 52′ 4″ N, 109° 30′ 54″ W
Elevation: 4800 feet
Please Note:
The Chiricahua Astronomy Complex is a secured (locked) site and is not open to the public. TAAA Members wishing to use the site must make reservations through CAC Site Director, John Kalas, to visit the complex: cac-director [at] tucsonastronomy [dot] org.
Fund Raising
TAAA is currently raising funds for CAC development via our Recognition Patio and Walkway engraved brick program.
A Little History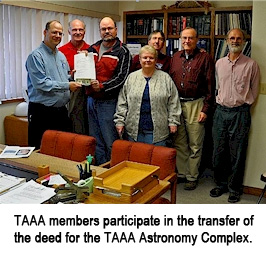 In October 2007, four members of the Tucson Amateur Astronomy Association (TAAA), formed a partnership called the Perseus Group to purchase 40 acres of land in the Turkey Creek area of southeastern Arizona just east of Sunizona and west of the Chiricahua Mountains. The Perseus Group includes Robert Crawford, Sam Rua, Erich Karkoschka, and John & Liz Kalas. Within the 40-acre parcel, each Perseus Group member donated 4 acres to the club yielding a 16-acre octagon-shaped astronomy complex surrounded by the four 6-acre parcels retained by the Perseus Group members.
February 2009 News Release
April 2009 News Release
A More In-depth History by Bill Lofquist
Phase 1 Construction Project
[click to enlarge image]

On February 13, 2010, the TAAA opened its new, very dark CAC Site. The initial Phase 1 site construction consisted of a graveled parking lot with thirty (30) parking spaces including two paved handicapped spaces, a septic system, a bathroom facility and a well house. These were the basic features required by Cochise County and the Special Use Permit governing the development of the site. The bathroom facility has two unisex bathrooms, a shower room and a utility room. The well house is designed to serve five parcels including the four surrounding Perseus Group parcels and the TAAA's astronomy complex.
Below is a chronology of Phase 1 construction events that led up to the opening of the astronomy complex:
February 2008
Special Use Permit was granted by Cochise County for construction of an astronomy complex
August 2008
Property was legally surveyed
October 2008
Septic evaluation was performed
April 2009
Power company staked out the electric service, Phase 1 building permit application was submitted
May 2009
Club members performed surveying to lay out the Phase 1 development
June 2009
Site clearing began, south barbed-wire fence was installed
July 2009
Electric service was installed on the site, well house construction began, well drilling was performed, entry drive was constructed, entry gate was installed
August 2009
Septic system construction began, S. Price Ranch Rd. and E. Perseus Way were widened to two lanes, bathroom construction began, parking lot layout was staked
September 2009
Septic leach field lines and septic tank were installed
October 2009
Entry drive and parking lot were graveled
November 2009
Well house was painted
December 2009
Well house was completed, club members installed rock edging around inside of parking lot
January 2010
Bathroom facility was completed
February 2010
Permit Dept. performed final inspection for Phase 1 building permit
Phase 2 Construction Project
In December 2010, the club embarked on the Phase 2 construction project. Phase 2a consists of ten (10) 12'x12′ concrete telescope observing pads with electricity at each pad, a 12'x14′ roll-off roof observatory, an 8.4 meter diameter round concrete observing pad called the Amphitheater with an adjacent 8'x20′ steel storage container and an additional 8'x20′ steel storage container for member secure storage.
[click to enlarge images]
The roll-off roof observatory contains a 14" Celestron Schmidt-Cassegrain Telescope tube assembly mounted on an Astro-Physics AP1200 GOTO equatorial mount donated by TAAA Member, Wally Rogers. The Amphitheater storage container contains an 18" Obsession Dobsonian telescope which can be wheeled out of the container onto the 8.4 meter diameter concrete observing pad adjacent to the container for use at club and public star parties. The Obsession telescope was donated by the family of deceased TAAA Member, John Zajak. The Phase 2a area was inspected and approved for use in September 2011.
Phase 2b consists of a 4-lane RV Area with power hookups (no water or septic). Phase 2b was completed, inspected and approved for use in September 2012.

All of the funding for the Phase 1 and Phase 2 construction projects was generated from within the club, either through direct member donations or from revenues set aside for this specific use.
Phase 3 Construction Project
In April 2014, the TAAA started construction of the Outdoor Education Facility (Ramada). The structure was envisioned as an open-air education/training facility and a picnic ramada.
Bill Lofquist suggested that funding for the project be generated from the construction of an engraved brick patio adjacent to the Ramada. The engraved brick program offers paver bricks engraved with personal member information for a donation. When sufficient funds were accrued, Phase 3a was initiated which allowed the pouring of the 20'x30′ Ramada concrete slab and the construction of the engraved brick patio. It also included running electric service to the edge of the slab. This work was completed in June 2014.
For the next eleven months, fundraising continued to accrue the money needed for the purchase and erection of the steel roof. Phase 3b, erection of the roof, started in mid-May 2015 and was completed in about a week. A picnic table, donated by John Kalas, was assembled and installed in the Ramada. Wally Rogers has generously offered to donate a large stainless steel gas grille for the facility. Three more picnic tables are required to fully equip the facility.
The Ramada will provide a great place for visitors to learn and socialize. It will also provide much-needed shade for the site and a fabulous place for a barbecue.
Also added to the site during the start of the Phase 3 project was the third 8'x20′ steel storage container. This container will provide additional secure storage space for member equipment and the club's gas grilles for the Ramada. The new storage container is on the left (right photo, above).
The Master Site Plan contains many more impressive features such as 12 sleeping rooms, 45 member observing pads with electricity, 15 member observatories, an education/activity building, a ramada, a large roll-off roof observatory, a dome observatory, an additional steel storage container and a caretaker's residence.