Area Destinations for Amateur Astronomers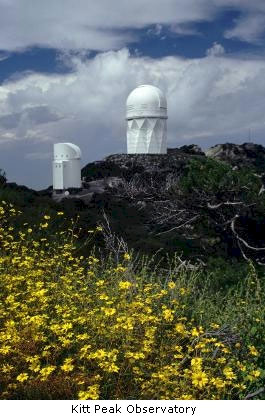 Tucson is a destination for many amateur astronomers, often coming from locations not as blessed with such an abundance of clear, dark skies. This page offers information about area attractions and destinations of interest to amateur astronomers.
TAAA Public Events
Our public events calendar details TAAA events that are open to the general public. Monthly meetings begin with a presentation on Astronomy Essentials, which is followed by a presentation by an invited speaker. We are fortunate to have the participation of many distinguished lecturers who are leaders in the field of astronomy. You will also have an opportunity to purchase TAAA souvenirs!
Flandrau Science Center
The Flandrau Science Center, located on the University of Arizona mall, is home to a local planetarium, as well as various science and astronomy exhibits. The observatory has a 16-inch reflecting telescope that gives beautiful views of Saturn, Jupiter, star clusters, nebulae, and other celestial wonders. Observing is free, or donate $1 to the Observatory, which is staffed each night by volunteers. Flandrau Science Center is located at the corner of University Blvd. and Cherry Ave. on the main University of Arizona campus. Visit their website for hours of operation and show informatiom.Call 621-STAR for more information.
Starizona
When you get here and realize your eyepieces are still in Chicago, where do you go? Starizona is a friendly astronomy shop with everything you need. Or, just go to look at solar prominences through a large Astrophysics refractor and a tunable hydrogen-alpha filter (wow!!!) setup out front on most sunny days. Starizona manufactures the Hyper-Star and the Hyperion Astrograph.
Stellar Vision Astronomy and Science Shop
Stellar Vision has a wide selection of new and used telescopes. They also sell binoculars and microscopes. They also sell Explora-Dome obseratories.
Kitt Peak National Observatory
Kitt Peak offers the world's largest collection of optical telescopes, and is located about an hours drive from downtown Tucson. You'll enjoy a beautiful drive across the desert and up a very scenic mountain. Take a picnic lunch and check the tour times for a guided tour.
Kitt Peak Nightly Observing Program
The Kitt Peak Visitor Center closes at 4:00 p.m. If you would like to visit during evening hours, make a reservation for the Nightly Observing Program. This is a guided tour of the night sky using either a Meade 16″ LX200 Schmidt-Cassegrain, a 16″ RC Optical Systems Ritchey-Chretien or a 20″ RC Optical Systems Ritchey-Chretien telescope. Advance reservations are required and they book up fast, especially for weekends and new moon. Kitt Peak also has an Advanced Observing Program avaiable.
Mount Lemmon SkyCenter
Mt. Lemmon SkyCenter, located just north of Tucson on the summit of Mt. Lemmon, is a unique science learning center. The SkyCenter builds upon the uniqueness of the site and the extensive knowledge base at the University of Arizona to deliver educational adventures such as the SkyCenter's SkyNights observing program. "SkyNights" offers the opportunity to peer beyond the blue horizons adorning our southwestern skies and explore the astronomical wonders that have fascinated us from time immemorial. Star charts, binoculars and a 32-inch RC Optical Systems telescope are just some of the resources utilized in this program. Join us as part of a group for evening hours or reserve the telescope all night and be treated as a visiting astronomer. See Related Article: SkyCenter Astronomer Honored For Astrophotography
Whipple Observatory
Whipple Observatory is an observatory branch of the Smithsonian Institution, and is located south of Tucson, atop Mt. Hopkins in the Santa Rita Mountains. Whipple Observatory is home to the 6.5m MMT telescope and several other instruments. Amateur astronomers are invited to bring their telescopes to the "Astronomy Vista," a special observing site with concrete pads and benches along a knoll at an elevation of 1524 meters (5000 feet) approximately 2 kilometers (1.2 miles) east of the Visitors Center on a paved road. Here, within sight of the Multiple Mirror Telescope, amateurs may take advantage of the same clear, dark, Arizona skies so important to professional astronomers. (Access to telescope pads requires climbing a short, but somewhat steep, unpaved trail.)
Biosphere 2
The University of Arizona Biosphere 2 is a self contained experimental ecosystem and serves as both a research and educational facility. It is located approximately 30 miles north of Tucson and is open to the public year-round, except for Thanksgiving and Christmas. Both public and private tours are available. Biosphere 2 serves as both as a research and educational facility for the University of Arizona. It is also home to a 0.7m telescope, though it does not (at last information) offer public viewing.
Pima Air and Space Museum
This is one of the largest air and space museums in the world, featuring more than 275 aircraft and spacecraft, including many of the most historically significant and technically advanced.
Titan Missile Museum
The Titan Missile Museum is the only publicly accessible Titan II missile site in the nation. Tour the underground missile site. See the 3-ton blast doors, the 8-foot thick silo walls, and an actual Titan II missile in the launch duct. Visit the launch control center, experience a simulated launch, and more!
Discovery Park, Safford Arizona
The Discovery Park Campus is located two hours drive east of Tucson in Safford, Arizona. Discovery Park serves as the visitor center for the telescopes atop Mt. Graham. It also houses a 0.5m telescope and many other exhibits on the history and culture of the region.
Arizona Sonora Desert Museum
An amateur astronomer still needs something to occupy the days, and one should not visit Tucson without spending one at ASDM. This is truly a world class museum, actually part museum, part zoo, and part arboretum. In your visit you will learn about this wonderful desert through its plants and animals. Don't miss the walk-in hummingbird aviary!
Mission San Xavier del Bac
One must not forget our city's Spanish history. South of Tucson is a monumental reminder of our past in the form of a 200 year old Spanish mission. Fully restored this building still serves as an active Catholic Church. Concessions are set up in front of the mission on Saturday and Sunday mornings.