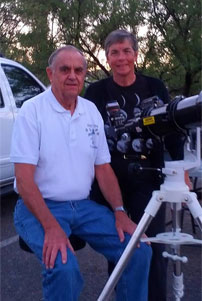 Paul has over thirty years of experience actively observing and participating in astronomy clubs.  His adventures in astronomy began as a youth, growing up on a farm in Illinois. After working as an engineer for JI Case Company and getting his MBA from University of Wisconsin Milwaukee, he settled in the Janesville area. He was really introduced to active observing while living in Janesville, after attending a "Library Moon Watch" star party through the Rock Valley Astronomy Club there.  He served as president of the Rock Valley Astronomy Club for several years.  At that time he was viewing with a C-8 Telescope.
In 1997, Paul and his wife Cathy moved down to Bella Vista, AR.  There, Paul was the founder and president of Sugar Creek Astronomical Society, and the proud owner of a C-14.  He was also very interested in film astrophotography.  He attended many national star parties, including Florida Winter Star Party, Nebraska Star Party, Rocky Mountain Star Stare, Oki-Tex Star Party and the Texas Star Party through which he made many lifetime astronomy friends.  He has attended many Astronomical League conventions where he meets up with these many astronomy friends.
In 2003 they moved to Pima, Arizona where Paul continued his astronomy adventures as a docent through Discovery Park, a guide to the LBT on Mount Graham, President of Desert Skygazers, and Project ASTRO astronomer.  Also during that time, astrophotography became one of his prime interests.  Partnering with his wife, they did CCD, web-cam, and DSLR imaging.  While he was president of that club, they put on several very successful Astronomy Day Events with over 250 in attendance at both events. Through a school star party at Discovery Park, Paul struck up a friendship with Harry O'Neil, which led to eventually locating the dark sky site where CAC is now being developed.   Under the extremely dark skies of Pima, with Mount Graham in their back yard, they successfully completed the Messier Marathon.  However, his highest honor during that time was the completion and presentation as a Master Observer through the Astronomical League.
In 2008, they moved to Green Valley, AZ where they have a backyard with three telescope pads and enjoy viewing and taking astrophotography with their dog Comet.  Paul and Cathy joined TAAA in 2008 as well as SAS located in Green Valley.  He serves as Astronomical League Coordinator for both organizations.  He has been very active in the AFSIG group along with teaching in their fundamentals s classes.  He enjoys participating in club star parties at TIMPA, CAC, and Kitt Peak Star-b-Que.  He has done many school star parties and has been astronomy partner for Project ASTRO teachers.  He also enjoys volunteering for David Levy's Unclub.  He has done solar viewing at the Tuscon Book Fair, and has worked for Astronomy Day activities every year.  As Astronomical League Coordinator, he has attended the board meetings for years, and then last year became Member at Large on the Board.
Paul and Cathy have started a new group called STARS Ed. (Science, Technology, Astronomy, and Reading Services in Education).  With this group they open up their classroom and backyard to teaching basic astronomy, and telescope skills.  They also work with training the trainer programs, helping future volunteers for teaching astronomy in the classroom and out on the field.  However, their favorite time is viewing with their six kids and nine grandchildren and of course their little astro dog, Comet.