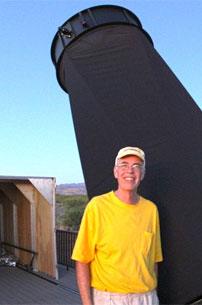 I became interested in astronomy as a teenager and was active in mirror making and telescope design through my college years. During a career in government and academia (as a lawyer and administrator) I stayed current in amateur astronomy, but was not active in any club.  That all changed about ten years ago when I joined a local astronomy association and realized how much I was missing!
In 2013 (following retirement) my wife and I moved to Tucson from Illinois and I soon joined TAAA. I am a member of the Strategic Planning Group and have also been serving as an instructor for the C-14 observatory at CAC.
In addition to my interest in astronomy, I am a long-time volunteer in the Boy Scouts and am currently serving as a District Chair in the Catalina Council, BSA.  Over the years I have been active as an astronomy merit badge councilor, organizing programs for both cubs and boy scouts.